PowerLyzer-MB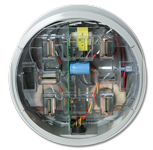 This product will be discontinued on June 1st, 2018.
The PowerLyzer is a power meter. It is intended for use with residential and industrial voltages from 120 to 240 VAC.
It records blinks and brown-outs and keeps 3 types of min-max information. It also captures voltage and current waveforms and calculates harmonics out to the 63rd.
The PowerLyzer is also a trend recorder. It stores the values in one, two, five or 15-minute intervals. Working with the Valquest PowerLyzer Software, it is able to present user formatted graphs and tables. Recording capacity depends on Voltage Configuration and Recording Period. It ranges from 5 days to 682 days.
Features
| Power Measurement | Range | Resolution |
| --- | --- | --- |
| Voltage | 0 to 275 VAC | +/- 0.2% |
| Current | 0 to 220 Amps | +/- 0.5% |
| Blink Voltage | 0 to 108 VAC | +/- 2.0% |
| Blink Duration | ½ to 4 Sec. | ½ Cycle |
| Power Loss | 4 Sec. or Greater | 1 Sec. |
| Blink / Power Loss Storage | 200 Events | |
| Phase Angle | 0° to 359.5° | +/- 0.5° |
| KW | -99.9 to 99.9 kW | +/- 0.5% |
| KVAr | -99.9 to 99.9 kVAr | +/- 0.5% |
| KVA | 0 to 99.9 kVA | +/- 0.5% |
| Power Factor | -0.5% to 0.5% | +/- 0.5% |
| Line Frequency | 50Hz or 60Hz | +/- 0.02 Hz |
| Harmonics | 1st through 63rd | |
| Recording | Parameters |
| --- | --- |
| Trend Parameters | Voltage, Current, Neutral, Phase Angle |
| Derived Parameters | KW, kVAr, kVA, Power Factor |
| Number of Measured Phases | 2 |
| Trend Period (Minutes) | 1, 2, 5, or 15 |
| Max Records | 65536 |
| Blink / Power Loss Storage | 200 Events |
| Min-Max Voltage Storage | 4 Second, 1 Minute |
Environmental Specifications
| Condition | Range |
| --- | --- |
| Operating Temperature | -20°F to 140°F |
| Humidity | 0% to 100% |
| Operating Voltage | 95 to 275 VAC |
| Input Measurement Current Range | 0 to 220 Amps |
| Power Usage | ½ Watt |
| Enclosure | Plastic/Metal |