PowerLyzer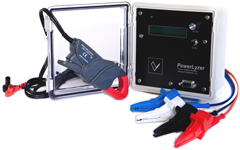 Downloads
This product will be discontinued on June 1st, 2018.
The PowerLyzer is a power meter. It is intended for use with residential and industrial voltages from 120 to 480 VAC. Using current clamps, it reads currents either directly or from metering CT wires.
It records blinks and brown-outs and keeps 3 types of min-max information. It also captures voltage and current waveforms and calculates harmonics out to the 63rd.
The PowerLyzer is also a trend recorder. It stores the values in one, two, five or 15-minute intervals. Working with the Valquest PowerLyzer Software, it is able to present user formatted graphs and tables. Recording capacity depends on Voltage Configuration and Recording Period. It ranges from 5 days to 682 days.
Features
| Power Measurement | Range | Resolution |
| --- | --- | --- |
| Voltage | 0 to 550 VAC | +/- 0.5% |
| Current | 0 to 9999 Amps | +/- 0.5% |
| Blink Voltage | 0 to 108 VAC | +/- 2.0% |
| Blink Duration | ½ to 4 Sec. | ½ Cycle |
| Power Loss | 4 Sec. or Greater | 1 Sec. |
| Blink / Power Loss Storage | 200 Events | |
| Phase Angle | 0° to 359.5° | +/- 0.5° |
| KW | -9999 to 9999 kW | +/- 0.5% |
| KVAr | -9999 to 9999 kVAr | +/- 0.5% |
| KVA | 0 to 9999 kVA | +/- 0.5% |
| Power Factor | -0.5% to 0.5% | +/- 0.5% |
| Line Frequency | 50Hz or 60Hz | +/- 0.2 Hz |
| Phase Rotation | ABC or ACB | |
| Harmonics | 1st through 63rd | |
| Recording | Parameters |
| --- | --- |
| Trend Parameters | Voltage, Current, Neutral, Phase Angle |
| Derived Parameters | KW, kVAr, kVA, Power Factor |
| Number of Measured Phases | 1, 2, or 3 |
| Trend Period (Minutes) | 1, 2, 5, or 15 |
| Max Records | 65536 |
| Blink / Power Loss Storage | 200 Events |
| Min-Max Voltage Storage | 4 Cycle, 4 Second, 1 Minute |
Environmental Specifications
| Condition | Range |
| --- | --- |
| Operating Temperature | -40°F to 165°F |
| Humidity | 0% to 100% |
| Operating Voltage | 95 to 530 VAC |
| Input Measurement Current Range | 0 to 1000 mA |
| Power Usage | ½ Watt |
| Enclosure | Nema 4 |