VQ-3215 RTU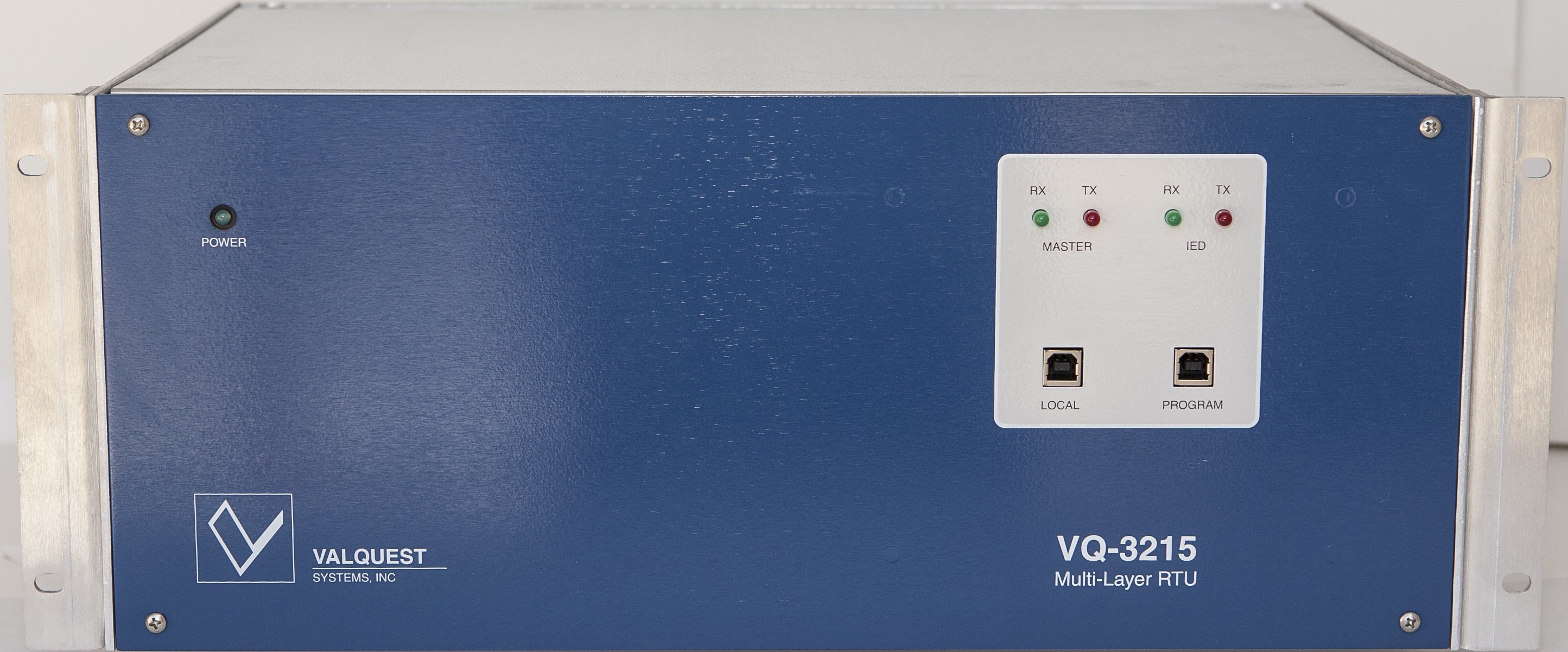 Enhance your VS.Net SCADA Master Station solution with Valquest's Remote Terminal Units (RTUs). With features and inputs developed for Rural Electric Cooperatives, Valquest's RTUs deliver accurate and reliable real-time intelligence to monitor, control and report on your utility operations, ensuring high levels of productivity.
The Valquest VQ-3215 is a modular Substation RTU that not only polls IEDs using various protocols to gather analog and digital information but also takes readings from local status inputs as well as PTs, CTs and DC sources. The data is recorded and stored in a resident database. It then responds to queries from clients with formatted messages from this database. It also has the ability to send commands to IEDs and expansion modules as received from a client.
Features
The VQ-3215 is field programmable with a laptop or from the master with the Valquest RTU-1 Configurator software so you can do what you need to do when you need to do it.
The flexible programming utility includes:
Standard IED templates
User defined IED templates
IED Network configuration
Local database organization
Server response data definition
Control output definitions
IED protocols
Local Expansion Module definiti
The VQ-3215 includes a local master (client) communications port so you can moniactivity in real-time through a local PC in the field.
The device calibration and functionality verification is done with the same program, so there is no need to juggle multiple applications.
Includes event storage based on standard IED templates.
The VQ-3215 has an internally opto-coupled master communications port to protect your equipment from lightning.
VQ-3215 Specifications:
Temperature Range
-40°F to 165°F
Humidity (Non-Condensing)
0 to 100%
Operating Voltages
85 to 260 VAC
95 to150 DC
12 VDC
Relay Contact Rating
10 Amps
Power Usage (without radio)
1 Watt
Enclosure
3.5" x 19" Rack
Fiber Optic Terminations
ST – Connector
Server Protocol
DNP 3.0
IED Protocols – Available
DNP 3.0
Modbus - RTU
PGE – 2179